Emmie is the daughter of
Gohan
and
Videl
.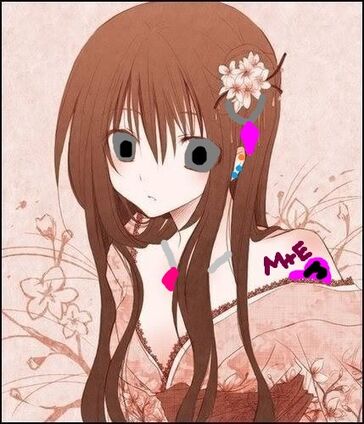 She is the little sister to
Jacon
, older sister to
Pan
and the twin to
Mickey
. Even though she and
Mickey
are adopted they are full blooded saiyans. She is fostered by them until age 3, then they adopt her and
Mickey
at age 4 . She is sweet, quiet and kinda shy. She is a fighter and she fights to protect others.
Emmie's Powers
Edit
Emmie is a mental and a physical fighter. She has Aerokinesis, Terrakiensis and Necrokinesis. Aerokinesis allows her to be able to control and bend air/wind. Terrakinesis allows her to be able to control and bend earth/rock. Necrokinesis allows her to be able to rapidly deterirate the health condition of another living being. Emmie can go Super Saiyan but only until level 3. She also has the spirit of the Owl. These are the techniques the Owl gives her; stealth, expantion of knowledge and insight. Emmie loves fighting and she'd do anything to keep her family safe.
Upon joining the Z-Fighters, she meets Dr. Nikaidou then she is introduced to her kids. She meets Totan, he starts flirting with her. She is shy at first but after a while she warms up to him and they start dating. Then about a year later he proposes, and 7 months they get married. She is only 17, on the honey moon she finds out she is pregnant with a boy they name Silas. 2 years later they are expecting a baby girl they name Rielyn. Emmie loves her family dearly and she would do anything for them.
Personality
Edit
Emmie is sweet, quiet and a little shy. She is thoughful, loving and compassionate. She is patient and smart, she is always prepared. Emmie loves her family very much and she would do anything for them.
Is a full blooded saiyan
Is closest to Mickey
Hates when someone ruins her outfit
Has Jacon's name tatooed on her right wrist
Also has Lythekinesis
The pink jewel in her hair is a gift from Mickey
Her most dormant power is Umbrakinesis
Ad blocker interference detected!
Wikia is a free-to-use site that makes money from advertising. We have a modified experience for viewers using ad blockers

Wikia is not accessible if you've made further modifications. Remove the custom ad blocker rule(s) and the page will load as expected.