EJ's Good News Bulletin
Edit
This is EJ and this is the 300th page on Maja Future so we just wanted to bookmark it for later. Happy 300's! :D
P.S Also to clear up any confusion is name is Jason just with weird spelling. :)
Jacon is the oldest child of
 Gohan
and
Videl
. He is the older brother of
Mickey
,
Emmie
, and
Pan
. He is quiet,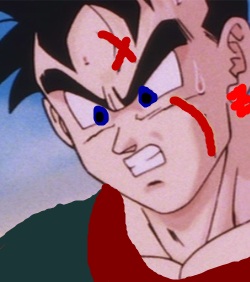 smart, fun to be around but most all kind. He is 1/2 saiyan, 1/2 human and he is a fighter. He is killed trying to protect
Pan
from Z2.
Story Flashback:
Edit
One day Jacon and
Pan
where home alone then suddenly he heard a bang outside. He knew that an android attack would take place soon. So he grabbed
Pan
and hid her. Then Z2 attacked their home and blew it up. He sheilded
Pan
and got severely wounded. Then he disappeared. When he parents and sisters got home they found
Pan
crying all alone. They searched and searched for him.Then 2 days later
Mickey
found a part of his training uniform, they followed it. Only a few yards away was his dead body, face down in a puddle. But even though he is gone his memory lives on t
hrough his sisters and the rest of his family.
He was also the boyfriend to Mika. He was going to propose to her the next day.
"You may kill me but I won't go out without a good fight".
Is always wearing his Z earing
Mickey found his body
He came back for 7 hours and he gave Mika his 1 star dragonball charm
Was 17 when he died
Was killed by Z2
Got the scar on his cheek and forehead from 2 other serperate battles
Ad blocker interference detected!
Wikia is a free-to-use site that makes money from advertising. We have a modified experience for viewers using ad blockers

Wikia is not accessible if you've made further modifications. Remove the custom ad blocker rule(s) and the page will load as expected.