Melinda is the little sister of
Gabriel
. They are raised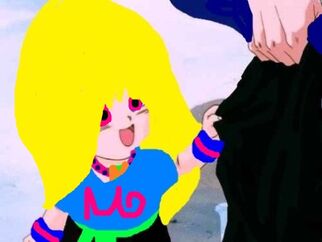 by a drunk of a mother and she doesn't know who her father is.
Gabriel
pretty much raises her and when he and
Senta
get together she helps him with her. Mellinda loves
Gabriel
and
Senta
very much.
Melinda's Powers:Edit
Mellinda is only a mental fighter. She has only Kromokinesis. Kromokinesis allows her to be able to control cells. Mellinda can also fly and she has ki, it is pink. Mellinda is not very powerful but she does what she can to help.
Her Guardian Character:Edit
Melinda has a guardian character. Her name is Koropii. Koropii helps give her a positive attitude and keeps her motivated because when Gabriel got hurt she blamed herself and she lost some self essteam. Koropii helps keep her motivated and she gives her a possitive outlook on these things. She also helps Melinda train and she is created from Melinda's longing of being a fighter and her longing of things going back to normal.
Personality:Edit
Melinda is sweet as sugar. She would never hurt a fly and she loves being around her family. She does what she can to help and she and Koropii volenteer at Pariah's Hospital a lot.
-Is only a mental fighter
-Doesn't know her father
-She got her neckalce as a birthday present from Gabriel
Ad blocker interference detected!
Wikia is a free-to-use site that makes money from advertising. We have a modified experience for viewers using ad blockers

Wikia is not accessible if you've made further modifications. Remove the custom ad blocker rule(s) and the page will load as expected.