Mickey is the daughter of
Gohan
and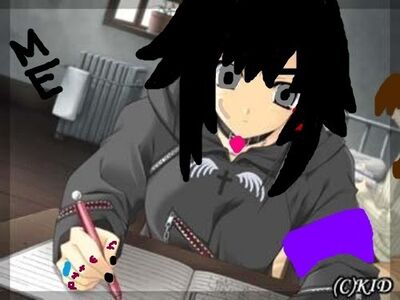 Videl
. She is also the little sister to
Jacon
, older sister to
Pan
and the twin sister to
Emmie
. Even though Mickey is adopted she is a full blooded saiyan. She is fostered by them until age 3, then they adopt she and
Emmie
when she is 4. She is devious, sarcastic and quiet. Mickey loves fighting and she loves the thrill of a fight.
Mickey's Powers
Edit
Mickey is a mental and a physical fighter. She has Hydrokinesis, Necrokinesis and Haemokinesis. Hydrokinesis allows her to be able to control and bend liquids. Necrokinesis allows her to rapidly deterirate the health condition of another living being. Haemokinesis allows her to be able to control and bend the blood in another body. Mickey can also go SSJ until level 6. She also has the spirit of the Vulture. These are the techniques the Vulture gives her; strength, destructive nature, good sense of tracking. Mickey is an extremly skilled fighter and she loves fighting.
Mickey meets Kadrance when she and Emmie join the Z-Fighters. They were living up at Korin Tower and being trained by Korin. He starts flirting with her her and she finds him charming (according to her:) They start hanging out and they form a close friendship. She and Kadrance are almost inceperable, they train together and she even lives with him for a time. Then after 3 years they find out she is pregnant with a baby girl they name Ashley. 2 years later they are expecting another baby girl they name Lailla. They never marry but they stay together until the end.
Personality
Edit
Mickey is devious, sarcastic and brash. She is quiet at times, kind and fun to be around. She is caring, loving and a little cynical. But Mickey loves her family and she would do anything at all for them.
She finds Jacon's dead body
Is closest to Emmie
Wears Jacon's Z earing
Has her parents intinals tatooed on the knuckles of her other hand
Is always seen wearing her signiture purple boots.
Is a full blooded saiyan
The tatoo on her knuckles are P, M+E and J, meaning P for Pan, M+E meaning Mickey+ Emmie. J for Jacon
Also has Umbrakinesis
Her most dormant power is Lythekinesis
Ad blocker interference detected!
Wikia is a free-to-use site that makes money from advertising. We have a modified experience for viewers using ad blockers

Wikia is not accessible if you've made further modifications. Remove the custom ad blocker rule(s) and the page will load as expected.