Osiris is the life partner of
Honesty
Shinhan. He is also the father of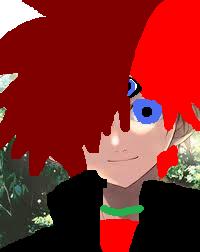 Amanda and
Miranda
. Osiris is both a physical fighter and a mental fighter. Osiris is the kind of guy that is pretty laided back but if you piss him off you are in for a whole lot of trouble. He is always looking for ways to improve the way he fights. Osiris has the power to control fire and anything that has to do with heat. Osiris is also the kind of person who you can trust and he is always happy to lend a hand when you need one.
Osiris's Power
Edit
Osiris is both physical and physic fighter. He is extremely gifted at both. He also has access to Pyrokinesis which allows him to control fire and anything else to do with heat. He also knows how to defend others and he also shows others how to defend themselves. He can also preform a technique that is simillar to the Tri Beam it is called the "Sun Beam Strike" and because it involves heat the ki color is a mixture of yellows, oranges and reds. It is his most powerful attack.
Osiris met Honesty at her 16th birthday. He started flirting with her then he asked her out she said yes and they start dating immeditley. Only one year later he found out Honesty was pregnant with their twins, Amanda and Miranda. Even though he and Honesty never marry he loves her and his girls just as much.
-He and Honesty never marry
-He has maroon red ki
-He was serving as a royal knight when he met Honesty
-Has 2 kids with Honesty