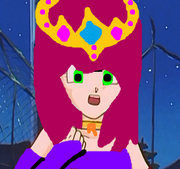 Rasberyl or Razz is the second biological daughter to the King and Queen of Mininsa. She is a speaker for the people and is very percistant and blunt in her efforts. She has more than once silenced a room with her ideas and speaking but she always does the best she can for her people. She helps out a lot with the poor or low income families on Mininsa. She is kind, stubborn and understanding to them and she does her best to help out, to them she is saviour and is always welcomed. Razz is a fighter and loves fighting, she often trains with her older siblings and the younger ones too. She is closest to Peach and enjoys being in the front courtyard where the apple tree is. Princess Rasberyl is always trying to do the best for her people and cares about them deeply.
Ad blocker interference detected!
Wikia is a free-to-use site that makes money from advertising. We have a modified experience for viewers using ad blockers

Wikia is not accessible if you've made further modifications. Remove the custom ad blocker rule(s) and the page will load as expected.