Hey its EJ! I just wanted to let everyone know tht i got the cutest little Shih tzu puppy. She looks about 5 weeks old.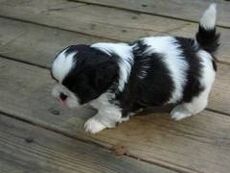 My uncle Tarrance gave her to me as an early birthday present. I decided to name her Claire and she is the sweetest. Even my cat Sunshine likes her which is suprising. I am so psyched and i just luv Claire and check out the pic on the side. She is running to me across my uncles deck to see me, she is so sweet. :)
EJ out!!!!!!!!!!
)
Ad blocker interference detected!
Wikia is a free-to-use site that makes money from advertising. We have a modified experience for viewers using ad blockers

Wikia is not accessible if you've made further modifications. Remove the custom ad blocker rule(s) and the page will load as expected.